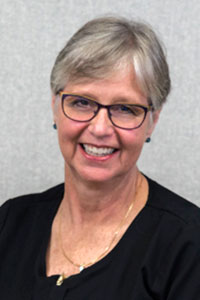 Dr. Robin Jungblut, a lifelong native of the Chicagoland area, has been practicing General Dentistry for 25+ years in the Western Suburbs.

Dr. Jungblut provides comprehensive dental services for you, your family and others – regardless of age. She believes you should be as comfortable as possible while undergoing dental procedures and strives to keep the atmosphere in the office relaxed and friendly.
She graduated with a BA in Chemistry from Augustana College and received her BS and DDS in Dentistry from the University of Illinois College of Dentistry.
More recently, Dr. Jungblut spent 7 years as an Adjunct Faculty member at Midwestern University College of Dental Medicine-Illinois.
Continuing education and updating her skills are important to Dr. Jungblut. As a Fellow of the Academy of General Dentistry, she is working towards her Mastership. In 2017 Dr. Jungblut completed the Competency Study Series with The Metz Center for Sleep and in 2019 completed the Mastery Classes with the American Academy of Sleep Medicine. Dr Jungblut is an  American Board of Dental Sleep Medicine Diplomate.  She now helps her patients live better, happier, and healthier lives by  treating snoring and sleep apnea conditions.
Dr. Jungblut is a member of the American Thoracic Society and American Academy of Dental Sleep Medicine. She continues to volunteer, when needed, with the Illinois Medical Emergency Response Team.

For fun and relaxation, she spends her time with quilting, singing in a show chorus and enjoying time with her family and 3 Newfoundland dogs.